Africa Climate Summit/Week 2023
4th - 8th September
Nairobi | Kenya
Venue: KICC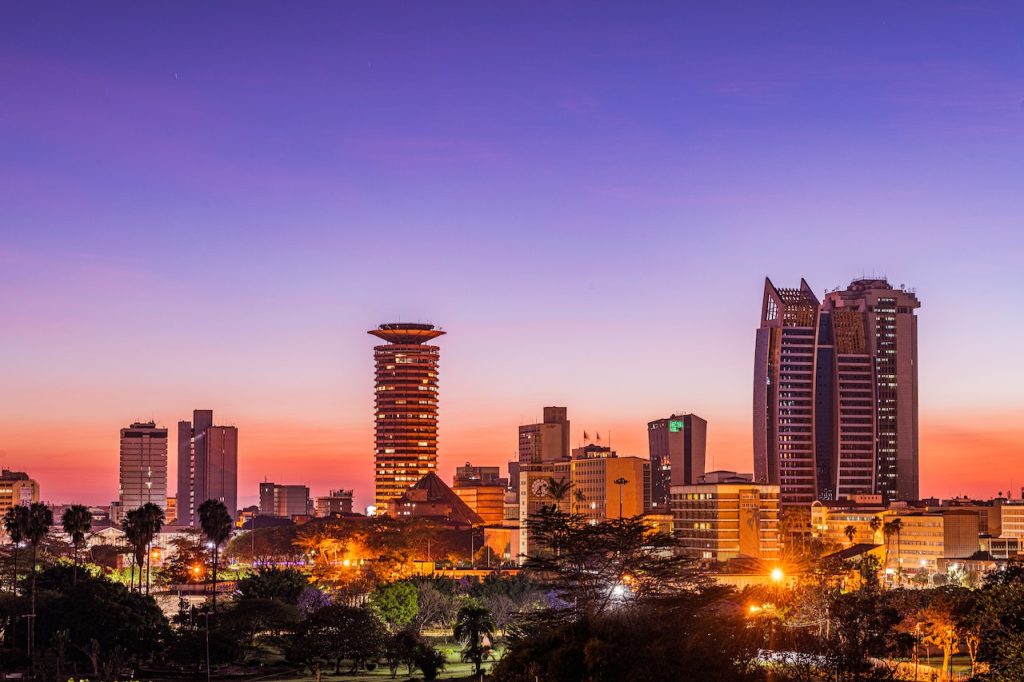 As part of FSD Africa's mission to make finance work for Africa's future it is hosting or participating in several events at the Africa Climate Summit and Africa Climate Week. It is also announcing a range of transactions and market building initiatives designed to create a more innovative financing environment and so boost the participation of international and domestic private capital in Africa's green economy.
Our involvement at the Africa Climate Summit/Week
We are supporting Africa Climate Summit because we're big believers in the future of the continent. We are also highly supportive of the view that Africa is capable of extraordinary green growth and that we can combine the financing of development with doing the right thing by the planet. The two are not inconsistent, in fact the two reinforce each other. And that's an important motivation for us at FSD Africa. We are all about creating a more innovative financing environment, for climate financing in particular, so this is a great opportunity to showcase what can be done, that it is possible to do transactions in Africa and that deals are happening. That's an important message to international investors but also domestic investors…that there is a big market emerging here and first movers are going to benefit from that.
Africa Climate Week Events
Launch of the Pan African Fund Managers Association (PAFMA)
The current debt vulnerabilities experienced by more countries in the continent, with some already classified as distressed, have called for African asset managers to seek ways to diversify their portfolio from traditional government instruments and increase their asset allocation to alternatives and climate-resilient projects. This event will mark the official launch of PAFMA. The association will call for innovation, new partnerships and alliances, and the need to design regional platforms and frameworks that promote co-investment opportunities among regional and international fund managers.
Investing in Africa's youth for exponential climate action
The event will highlight the TECA team's journey right from inception to solution launch, as well as illustrate entrepreneur and customer journeys from the perspective of one of the Blue Wave ventures. The event will take the form of a rapid interview between BFA Global (TECA implementer) and FSD Africa (seed investor) on the importance of investing in youth-led climate innovation.
Spotlight on African financial markets: mobilising domestic private capital
Mobilising domestic private capital is key to financing Africa's green economic transformation.  African private financial institutions only provide 3% of total climate finance in Africa and yet there is $1.4 trillion of domestic institutional capital that could be deployed into climate action, in much needed long-term local currency. What is stopping them from doing so?  And what can be done – through policy, regulation or new instruments – to change this picture and make Africa's financial markets more resilient and less dependent on international funding. We hear from policymakers, CEOs of leading African FIs and the most influential donor agencies supporting financial market development.
Great blue wall - Accelerating and upscaling ocean action in Africa
The session will focus on commitments to operationalise the GBW in the WIO Region. This will be elaborated in; Regenerative Seascapes, Nature-positive World and Regenerative Blue Economy.
Harnessing the power of finance for nature: Building resilient African economies
The session will highlight the role of governance and frameworks such as the TNFD as a catalyst for investment in nature, spark debate and discussion on the role of finance in enabling nature conservation from the perspectives of the real economy, non-state actors, and the donor community, and much more.
Catalysing early-stage capital for climate action in Africa
The session will explore innovative ways of mobilising capital towards early-stage start-ups focused on tech-led climate solutions on the continent. During the session we will hear from start-ups that have financing needs, as well as investors that are focused on building climate ventures.  Our discussion will highlight what actions need to be taken by ecosystem partners to help nurture and more rapidly scale climate tech innovation in Africa.
FSD Africa Deal Room Announcements
Discover EABX, ESX, Infracredit, Okavango, and Nithio at the FSD Africa Deal Room – An Exclusive Opportunity for Investors!
Scaling up de-risking solutions to catalyse green finance
Are investors' highly negative perceptions of "Africa risk" misplaced or realistic?
In this TED-style session, distinguished experts will demonstrate the role of de-risking solutions across the financing lifecycle of green projects, stimulating a discussion on mechanisms that mitigate investment risks to enhance creditworthiness, reduce borrowing costs, attract investors and accelerate green capital development in Africa. The experts will showcase successful examples of de-risking solutions that have unlocked green finance for infrastructure, agriculture, water, renewable energy, housing and social sectors
Africa Climate Risk Insurance Facility for Adaptation (ACRIFA)
The objective of the event will be to provide a platform that will demonstrate de-risking solutions across the lifecycle of green project development and financing and stimulate a discussion on how to ramp up the existing offering of instruments to attract investors, reduce borrowing costs, support access to capital, and ultimately accelerate green economic development in Africa.
Pioneering the future of nature in Africa
The session will bring together the Presidents of several African states to engage in a high-level dialogue on nature and biodiversity in Africa. The event will provide a platform for these African leaders to discuss key challenges, opportunities, and policy interventions aimed at promoting nature and biodiversity conservation efforts for sustainable development across the continent.
FSD Africa & FSD AFRICA INVESTMENTS
FSD Africa/PIDG Reception
At the reception FSD Africa and FSD Africa Investments will show case recent deals and interventions in innovative climate finance. The Private Infrastructure Development Group will launch and detail on how their new strategy to 2030 is helping to close the infrastructure investment gap and a call for action on new collaborations to scale and tackle the challenges ahead.
Unlocking capital for African carbon credit projects
The convening will Share progress made by ACMI and partners on designing financial mechanisms, discuss how to significantly increase access to upfront capital and mitigate political risk for African carbon credit project developers and foster a vibrant community of African VCM stakeholders through ACMI's network.
Mobilising Africa's financial sector for low-carbon, climate-resilient development
This event serves as a platform to secure collective commitment towards achieving AFAC's Vision 2030, get high-level support and endorsement for the governance structure and Vision 2030. The two main agenda's for the session will be the Launch of the AFAC Vision 2030 and strategy and the Ratifying the AFAC guiding principles.
Catalysing opportunities in carbon financing and digital connectivity in Africa
As a direct follow up to the commitment to drive the creation of 50 million good green jobs by 2030 made during the 2022 C40 World Mayors Summit in Buenos Aires, C40 and the Nairobi City County will convene African mayors during the African Climate Action Summit/2023 Africa Climate Week to share and track how climate action is contributing to the creation of green jobs in their cities and discuss more opportunities for investment in good, green jobs in African cities.
Africa Mayors' Roundtable on Finance Climate Action for Green Jobs
As a direct follow up to the commitment to drive the creation of 50 million good green jobs by 2030 made during the 2022 C40 World Mayors Summit in Buenos Aires, C40 and the Nairobi City County will convene African mayors during the African Climate Action Summit/2023 Africa Climate Week to share and track how climate action is contributing to the creation of green jobs in their cities and discuss more opportunities for investment in good, green jobs in African cities.
Financing sustainable cities in Africa
This event puts three of Africa's great cities under the spotlight – Nairobi, Freetown and Lagos.  Together these cities have a population of over 25 million and each has its sustainability challenges – whether environmental, economic or social. Senior representatives from these cities will be joined on the panel by two of the continent's most important financial institutions – the African Development Bank and the European Bank for Reconstruction and Development – to consider the different ways cities can use financial markets to drive economic growth whilst adapting to the changing climate. A Tanzanian water company, Tanga Uwasa, will share its experience of accessing the capital markets to fund investment.
Climate Connects, Networking Reception
May Yego, senior Manager, FSDAi will be speaking at the event. The networking reception will bring together investors, industry partners, and individuals from the climate sector for an evening of networking over drinks and canapés. The event will be an opportunity for us to our expand our investment strategy to address climate change.
African Natural Capital Alliance (ANCA) Gala Dinner
ANCA who will be at the Africa Climate Summit / Africa Climate Week (ACS/ACW), and representatives from the public sector – preferably regulators – for an evening of networking and building the profile of ANCA. Guests will have the opportunity to not only learn about ANCA and its mandate but review key highlights from the ACS and the forward look to COP28. ANCA members present will also demonstrate their commitment to the Nature Voices Pledge through a launch ceremony.
Climate connect, "Start-it-ups" breakfast
Amos Gachuiri, Senior Investment Manager will be speaking on the Persistent  "Start-it-up Breakfast". The event is a meet-up with Venture Builders to answer your questions about raising capital and growing your company. 
Mobilising domestic capital for climate - positive growth
Mobilising capital for climate action is one of the most important levers to drive climate positive growth while preventing catastrophic warming and protecting critical ecosystems. Much of this capital is needed for investment in low-carbon power systems, resilient infrastructure, regenerative agriculture and nature-based solutions in the Global South. The Africa Climate Summit is the perfect opportunity to bring African institutional investors to the table and accelerate domestic resource mobilisation. The Summit aim is to accelerate climate positive growth, unlocking domestic resources will be crucial in doing so. If done right, this can also stimulate the development of domestic capital markets, further accelerating economic development.
Young Insurance Professionals
This side event would be jointly hosted by Young Insurance Professionals (YIPs) Africa, AMIMMS – Mozambique Women for Inclusive Insurance and Women Leadership in Insurance Africa themed "Insurance Industry Role in the Integration of Nature-Based Solutions for Prevention in Disaster Risk Reduction". The outcome would contribute to wider discussions about the possibility of new arrangements like natural insurance schemes and evidence-based assessment of avoided damage costs from green protective measures.
Ethiopian Securities Exchange (ESX) Market Sounding to Kenyan capital Market Players
The Ethiopian Securities Exchange (ESX) is being established as the first modern and organized securities exchange in the country, currently the largest nation in the world (pop. >120mn with favorable demographics) without a stock exchange. Ethiopian Investment Holdings (EIH) – the sovereign wealth fund of Ethiopia – and Financial Sector Deepening Africa (FSD Africa) are the promotors of the Exchange.