About the Capital Markets team at FSD Africa
At FSD Africa, we are passionate about building capital markets to address Africa's most pressing developmental challenges, create economic opportunities, deliver environmental benefits, address fragility and vulnerability, reduce poverty and achieve a sustainable future for Africa's population.
Since 2015, our dedicated team of Capital Markets development professionals has been driving capital markets innovation and development in Africa. Our capital markets team lead over 50 initiatives in more than 30 countries. We work in close partnership with private sector leaders and governments on a range of flagship programmes – from product development in areas such as gender, green and carbon-linked sustainability bonds to regulatory support, policy development, new market infrastructure, engagement with institutional investors and institutional strengthening.
Why Capital Markets matter
At FSD Africa, we believe the role of Africa's capital markets has never been more critical. Capital markets are a key enabler to achieving a sustainable future for Africa's economies. Capital markets play an important role in increasing access to finance for public and private sectors, increasing the availability of green finance for mitigation, adaptation and resilience to climate change and biodiversity loss. Furthermore, local currency capital markets can diversify the financial sector reducing dependency on banks, reduce currency and refinancing risks, improve the financial sector's resilience to external shocks, and support more efficient intermediation of scarce domestic savings.
What is the challenge(s)/failures in African capital markets
In most African countries, the building blocks of efficient capital markets are not in place. Capital markets remain under-developed, characterised by:
A limited number of bankable projects
A lack of orderly markets with sound regulatory environments, low transaction costs, appropriate tax regimes and availability of market data
A lack of competent and motivated intermediaries
An undiversified investor base – domestic institutional investor assets under management in Africa currently exceed US$1 trillion, but these are shadowed by unsupportive investment regulations and weak capacity of asset managers.
Furthermore, in most markets in Africa private investments are crowded out by governments which compete with the private sector for limited domestic private savings, thereby reducing the supply and raising the cost of credit. Higher yields on government securities contribute to raising interest rates on private borrowing.
How do we address these challenges? Our approach to capital market development:
FSD Africa's capital markets team has a four-pronged approach to creating sustainable impact across Africa. We support:
The development of enabling policies and regulations
Involves providing technical assistance to support the development and review of policies, guidelines, and regulations to enable new capital markets products or structures.
The development of market infrastructure
Involves the provision of technical assistance and financial support to develop appropriate and well-functioning market infrastructure. This includes Over-The-Counter (OTC) exchanges for trading fixed income securities, securities/stock exchanges and credit enhancement facilities.
Product development through demonstration transactions
Focuses on providing technical and financial support for various transactions to demonstrate their feasibility, crowd in investors, and promote replicability across the markets. These transactions could be corporate or government (sovereign) transactions.
Provide thought leadership through research, knowledge-sharing, and capacity building initiatives with relevant market stakeholders
Includes research, toolkits production, data portals development, training and peer learning programmes, workshops, and forums to build capacity and knowledge amongst market stakeholders (such as policymakers, regulators, industry, and financial sector professionals) on various topical areas in capital markets.
Our instruments and tools
FSD Africa's Capital Markets team works alongside governments, development partners, business leaders, regulators, and policymakers to design and build ambitious programmes that make capital markets in Africa work better for everyone.
FSD Africa's Capital Markets team supports its partners by drawing on a range of market development tools and instruments, including:
Non-Financial Tools and Instruments – Technical assistance, advocacy, convening and market insights
Financial Tools and Instruments – grants, returnable grants, investment capital (through FSD Africa Investments)
We design our programmes around the varying needs of our partners. We deliver a bespoke response while maintaining our ability to deliver quickly and quality result.
Where we work
FSD Africa's Capital Market team has a footprint in over 30 countries. In line with FSD Africa's new vision, to concentrate its impact in fewer places whilst maintaining its regional footprint, the Capital Markets team will work more intensively than ever in five priority countries – Ethiopia, Ghana, Kenya, Morocco and Nigeria, whilst maintaining a regional footprint across Africa.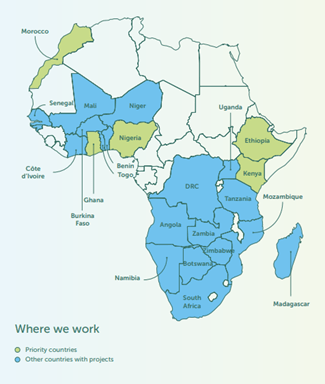 What we've achieved so far
Our approach has a strong policy and transaction focus. Our team has been responsible for supporting innovative transactions in several markets, focusing on sustainability themed bonds and the rapidly emerging field of nature-based financing. We have supported or facilitated:
At least 14 innovative transactions, helping sovereign and corporate issuers in Kenya, Nigeria, Mauritius, Morocco, Rwanda, and Tanzania raise an equivalent of approximately £320 million in local currency.
Over 30 regulatory development initiatives to develop legislation, regulations, guidelines, and policy documents that form the foundation for product development and transactions in African capital markets.
Over 15 knowledge products including toolkits, feasibility and diagnostic studies and data tools to provide thought leadership in African capital markets.
Training of over 6,000 regulators, policymakers, and market participants across Africa's capital markets, to provide thought leadership and build the capacity of market actors.
Over 6 peer learning platforms or forums for African regulators and supervisors to benchmark and learn from peers in other African capital markets.