Strengthening Africa's Digital Financial systems through Capacity Building
For the past 7 years FSD Africa has worked the Digital Frontiers Institute (DFI) alongside Omidyar Network, Bill & Melinda Gates Foundation, and the MasterCard Foundation to build global digital finance capacity with a strong emphasis on sub-Saharan Africa. After a successful pilot from 2016-2017, DFI was launched in 2018 delivering their flagship 3-year  Certified Digital Finance Practitioner (CDFP) programme as well as other short courses. of December 2022, DFI had trained 9,864 African participants (over 4,500 unique professionals) with a pass rate of 86% and establishing 20 in-country African COPs.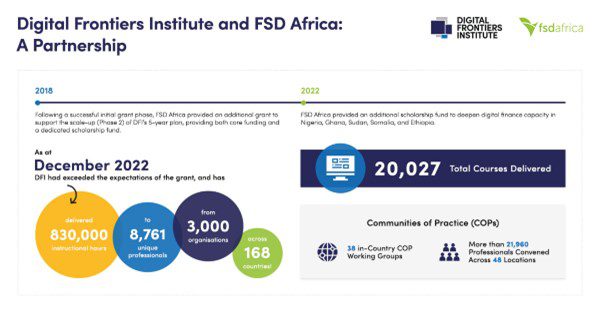 A survey conducted by DFI at the end of 2022, revealed that 97% CDPF graduates who responded reported they benefited from the certification they received from DFI in some way. Some of the benefits included being recognized as an expert in digital finance, earning a promotion within the same organization or taking a higher position in another organization. Graduates were able to translate knowledge gained through the programme to provide training to colleagues, speaking at forums and/or conferences on inclusive finance, designing new products and/or services, supporting development of new policies and designing and implementing their own financial inclusion projects.
Our partnership with DFI has continued to evolve over the years, allowing FSD Africa and FSD Network members to leverage DFI's expertise to explore and develop new courses. In 2020, the FSD Network partnered with Digital Frontiers Institute (DFI) to develop a course on inclusive digital economic development (iDED). The offering provides the sector with a solid foundation for professionals working in the digital economy who are passionate about inclusive development. To date, 170 professionals have been trained.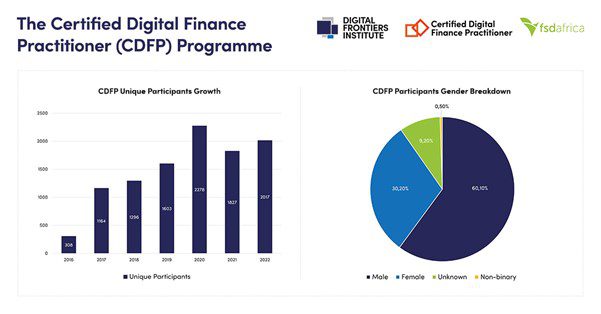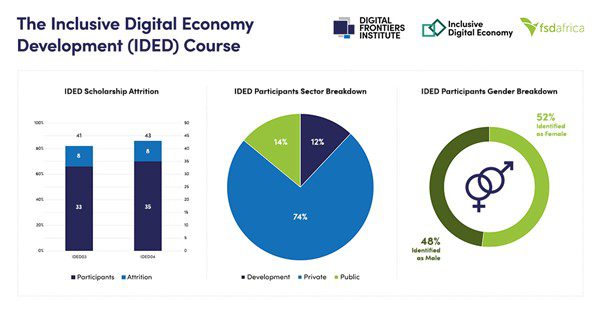 Our partnership with DFI also provides us an opportunity to work with our other partners and stakeholders to build capacity in specific markets. In 2022, FSD Africa provided additional scholarship funding, training 190 candidates in Ethiopia, Sudan, Somalia, Ghana and Nigeria.
While our formal partnership with DFI has now come to an end, FSD Africa and the FSD Network continue to engage with the team through Alliance of Digital Finance Associations (The Alliance). Founded in September 2021, the Alliance unites the global digital finance community through its demonstrable global convening power to reach approximately 20,000 digital finance professionals across 80+ countries, with a focus on Africa and Asia.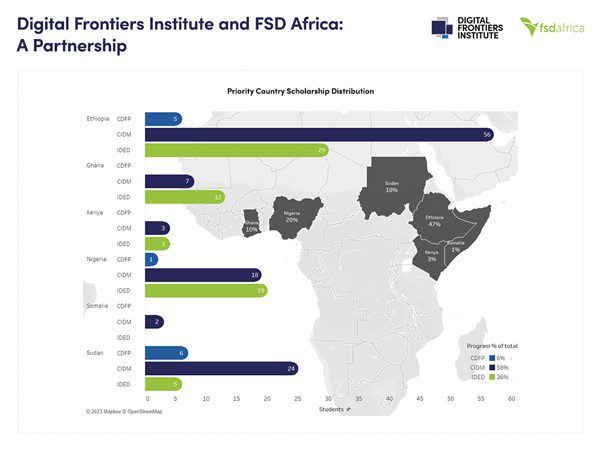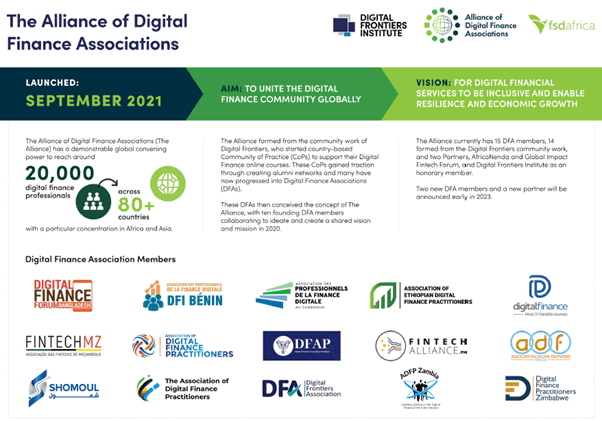 Through this partnership, both FSD Africa and DFI have been able to increase capacity for Financial Inclusion in Fragile Communities and States (FCAS) that are still heavily reliant on traditional banking, resulting in higher levels of exclusion among the most vulnerable. DFI's partnership with FSD Africa has contributed to improved digital finance policies, regulations, and directives, as well as increased cross-sector collaboration networks facilitated by platforms of continuous professional development