From sunshine to rare minerals to a youthful population, Africa has the raw ingredients to make the green transition. Now it needs the finance.
Take power. Exceptionally strong sun and vast swathes of desert mean Africa is the region with the highest solar generation potential over the long term, according to calculations by the World Bank. It's now cheaper to build and operate new large-scale wind and solar farms in many parts of the world than to keep running coal or gas-fired power plants. With more than half of people in Sub-Saharan Africa living without electricity, expanding solar should be a no-brainer.
Yet investment in renewable energy in Africa fell to an 11-year low in 2021, comprising just 0.6% of the global total, according to a report by BloombergNEF. Financing options are insufficient and expensive because lenders worry about the risks of taking on new projects in often politically or economically unstable countries with broken supply chains — though the opportunities can be unrivaled.
"African cities and economies are growing faster than anywhere in the world, so it's ripe for transformation. The question is why we are not seeing the uptick in investment we should expect," said Wanjira Mathai, regional director for Africa at the World Resources Institute. "The biggest challenge right now is the cost of capital. To unlock that would be absolutely catalytic."
Renewable Investment in Africa
Source: BloombergNEF
Note: Global renewable energy asset investment by region
The world's least developed continent, Africa produces just 4% of global greenhouse gas emissions but is already suffering some of the worst consequences of a changing climate. Rich nations have never met a 2009 pledge to funnel $100 billion a year to help developing countries shift toward cleaner energy sources and bolster their infrastructure against extreme weather.
At the UN-sponsored COP27 climate talks in Egypt last year, delegates agreed to create a new fund for countries battered by climate disasters, though the details have yet to be hammered out. And private sector lenders are calling for multilateral development banks to play a bigger role in financing clean energy projects in poorer nations.
It's an issue that looms large over this year's climate conference, which is taking place in Dubai.
Africa needs investments worth $2.3 trillion to meet the needs of its population, plus an additional $1 trillion to bolster its infrastructure against climate disasters, according to estimates from the Africa Finance Corp.
Even the continent's buzzing startup scene lags behind the rest of the world. Africa was on the receiving end of just over 1% of the $415 billion in venture capital that went into the startup sector globally in 2022, according to research firm Briter Bridges. Of that, 15%, or around $800 million went into "clean tech" or "climate tech."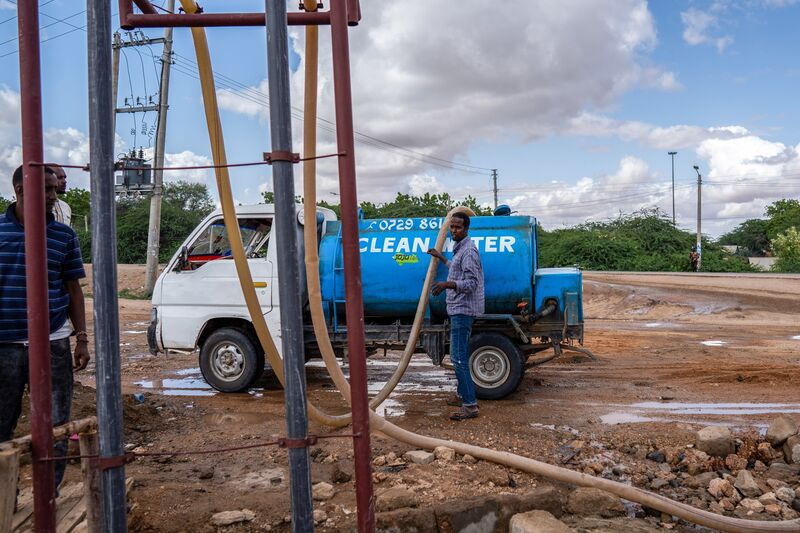 Faced with limited resources and immediate challenges, governments are making stark — and divergent — choices.
"Two days ago, we went to distribute food relief to 4.3 million affected Kenyans in an emergency program that has forced us to re-allocate funds budgeted for education and health," Kenya's newly-elected president, William Ruto, told COP27 leaders in November.  "The tradeoffs we are forced to make between indispensable public goods is evidence that climate change is directly threatening our people's life, health and future."
Ruto called for Africa to leapfrog fossil fuels and embrace clean power as the foundation of its future development. Lacking the oil, gas and coal deposits abundant in some parts of the continent, Kenya has embraced renewables instead. Over 90% of its power comes from sources including solar, wind and geothermal. It also beat the European Union by four years in banning single-use plastic bags and is now considering forcing drivers to pay a congestion charge to curb pollution, a measure that only London has enacted and that New York is debating.
"They ban coal, and we follow, they say firewood is not for fetching, they say we need to plant more trees," Bola Tinubu, a leading candidate in this month's Nigerian presidential elections, said in October. "If you don't guarantee our finances and work with us to stop this, we are not going to comply with your climate change."
The Just Energy Transition Partnerships are an effort to respond. The first was signed in 2021 between South Africa and the US, the UK, the European Union, Germany and France. The $8.5 billion financing package was designed to help South Africa transition away from coal and provide a blueprint for new agreements between developed countries and middle-income nations that depend on dirtier fossil fuels.
The details of the deal weren't agreed until a few months ago though, with South Africa and its partners disagreeing about how the money should be spent. In the meantime, South Africans have faced daily power rationing as the loss-making state utility Eskom struggles to manage its ageing coal-fired plants.
The African Hydrogen Partnership, a grouping of private sector organizations, is pushing to develop green hydrogen as an alternative fro everything from public transport to clean cooking fuel.
"Our focus is on the domestic market," said its co-founder and vice-chairman Siegfried Huegemann. "It's where we see great potential, fantastic potential for developing new industries."
When pipelines and harbors are built, however, Africa could become a major source of green hydrogen for markets elsewhere. The continent has the potential to produce €1 trillion ($1.1 trillion) worth of green hydrogen annually by 2035, according to a study by the European Investment Bank. As with electricity generation, however, transformational changes of that magnitude need money.
"We know that the climate challenge will be significantly difficult to manage and to adapt to — and in Africa the opportunity is dependent upon building resilience and economic resilience above all," Mathai said. "You can see what a vicious circle this is."
Read original article